Welcome to the Lawson High School Robotics Website
2018 FIRST Robotics Competition - FIRST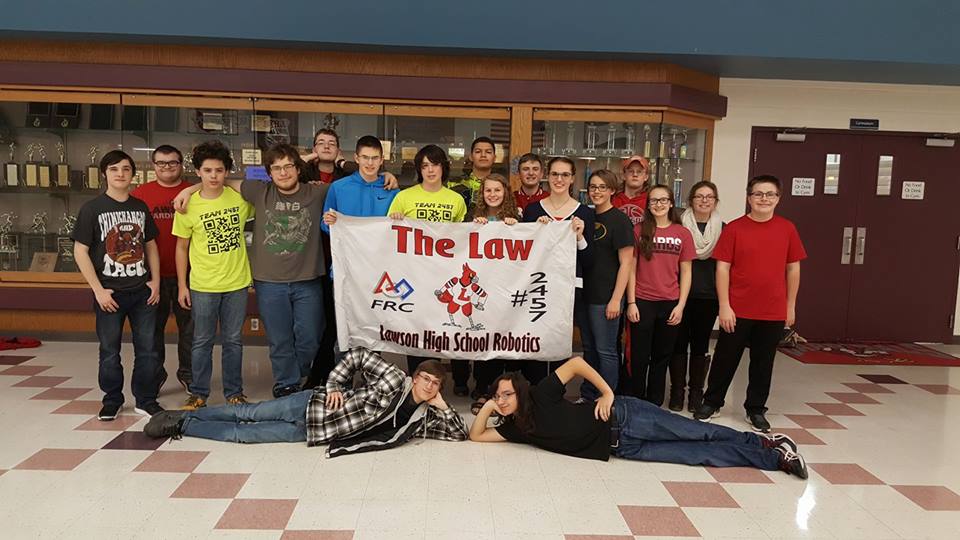 Crucial Objectives
Our most important goal right now is to raise five-thousand dollars.
We have a facebook group selling Pampered Chef products as well as a GoFund Me page dedicated to raising this money.
Some of Our Upcoming Events...
As this season winds down we are planning for the next season by fundraising on Go Fund Me, at school events, and by reviving our Gnoming program.
Thursday, November 2nd, 2017: Unresticted Regional event Registration opens
Monday, November 20th, 2017: All District Events And All Regional Events Registration Closes.
Payment Due - 1st Regional Event.
Wednesday, November 29th, 2017: McDonald's Night Fundraiser.
Tuesday, Februrary 20th, 2018: Stop build day.
Friday 9th through Sunday 11th, March 2018: FRC Heartland Regional-MCC-B&T
Wednesday 18th through Saturday 21st, March 2018: Houston FIRST Championship.
Other Information...
We are participating in the Maker Fare Saturday June 24th at Union Station Kansas City.
Check out our GoFund Me!